Trusted Member
Bold Member!
There are two stories, both have information the other didn't.
I lack the subtle prose of The Den's more prolific authors at the moment so the gist of things are -
David Mohr parked his truck at the local doughnut shop to pick up lunch and left it running so his Lab/Weimaraner, Roleaux, could bask in AC goodness and not suffer the Baton Rouge sweat box it is this time of year. That's when overall cunt and opportunistic car thief Leslie Aguillard (30) decided she wanted that truck and jumped in. David wasn't having any of that shit and grabbed on. Despite being dragged across the asphalt and getting seriously injured (not to mention nearly getting his head popped like a grape) the cunt sped off with Roleaux inside and David a trip to hospital.
The next day someone familiar with the incident located the truck less than 5 miles from where it was stolen and called deputies who arrived and found Roleaux dead inside apparently from heat related injuries (nothing determined). Leslie Aguillard was arrested shortly afterward.
The cunt showed zero remorse for her actions and wouldn't even answer a reporter who asked (I'm assuming) on her perp walk, why she just couldn't have let the dog out.
She was booked on carjacking, vehicle theft, animal theft, cruelty to animals and attempted second degree murder. According to court records, Aguillard also has an active bench warrant for previous ratchet style crimes.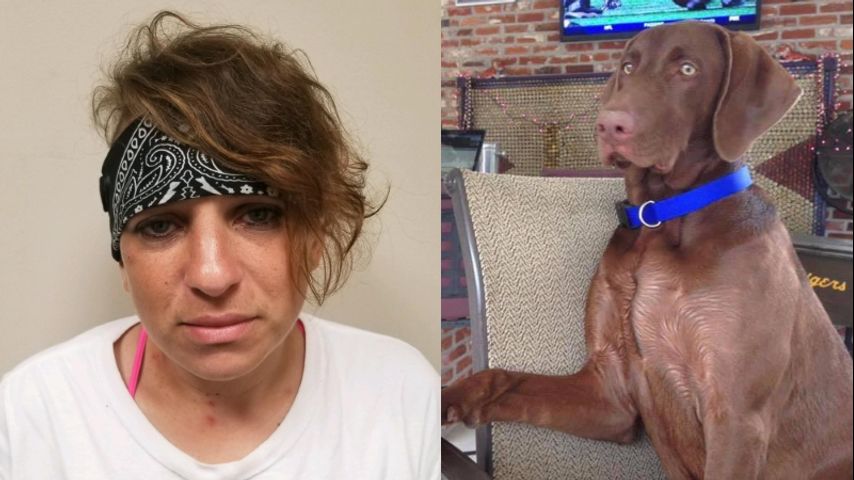 Law enforcement is looking for a thief who stole a pick-up truck with the owner's dog still inside.
www.wbrz.com
Deputies have recovered a truck stolen from outside a Baton Rouge doughnut shop Sunday, July 7. A dog that was in the truck when it was stolen was found dead inside, the owner confirmed Monday.
Leslie 'Track Marks From Hell' Agillard
Bask in ratchet fame for all google time.
Roleaux (He was a good boy)