Veteran Member
Bold Member!
A single mother facing eviction from her

Maine

apartment after falling behind on her rent last month was offered a tent and camping gear by the city after she went to them for help.

City officials in Belfast offered to help the woman, who has been identified only as Angie, find a tent so she and her two children could camp.

Belfast General Assistance Administrator Jodie Stout told the

Bangor Daily News

that the city cannot put people in temporary housing, such as hotel rooms, in nice weather.

She added that the need for temporary housing is so great that a waiting list has been created for people who need tents and other camping gear.

"We have a ton of need right now," she told the outlet.

Angie, who is currently couch-surfing while her children stay mostly at their father's house, said: "It is a little discouraging to be told that all we have to offer you is a tent."

In Belfast, even if a tent is issued, there isn't a municipal campground. So people must get permission to pitch a tent on private property or use a private campground.

Some locals have started turning to social media asking for donations of tents and other camping gear.

Allison Harrell, from Searsmont, is working to raise awareness and has called on donations for gear as well as asking campgrounds or landowners to open up any spare land they have.

"It's not surprising to me that camping is an option," Harrell told the Daily News said. "I think that the needs of different homeless people are so vastly different. The conversation comes up a lot in the community that there are people who prefer camping or living outdoors. For some people, maybe it's OK, and what they prefer. But certainly, families with young children, it seems like it's not an ideal situation."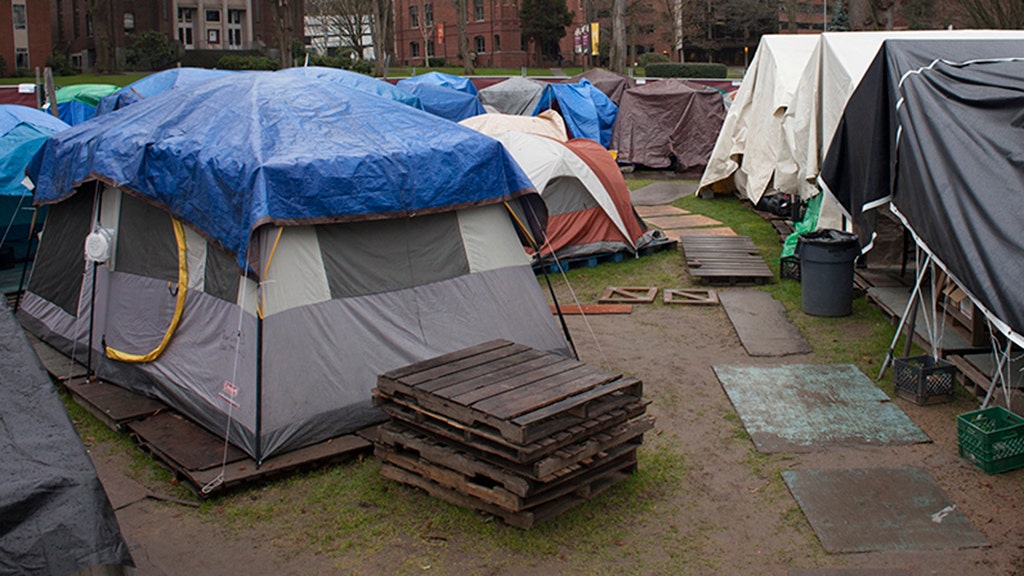 A single mother facing eviction from her Maine apartment after falling behind on her rent last month was offered a tent and camping gear by the city after she went to them for help.

www.foxnews.com
From June 2019
Through the winter, the families streamed into Portland, bringing stories of violence and persecution in their home countries in central Africa. Portland's shelter for homeless families soon filled to capacity, so the city put mats on the floor of a Salvation Army gym for 80 more people.

Then that, too, wasn't enough. This month, 250 migrants from Africa arrived in this northeastern city of roughly 67,000 residents in the span of just a week, overflowing the overflow space and forcing Portland to hastily convert a basketball arena into an emergency shelter. Urgent calls went out for interpreters who could speak French, Portuguese and Lingala, a language spoken in the Democratic Republic of Congo. City Council meetings were given over to grappling with how Portland would pay for all of this — and the possibility that still more migrants might be coming.

It is a bit of a mystery in Maine, one of the oldest and whitest states in the country, how Portland has become a focal point for a sudden surge of migrants, mostly from Angola and Congo, who are seeking asylum.

Maine has long wrestled with an aging work force, and some leaders view immigrants as a welcome answer to the state's struggles to lure younger people to live and work here. Still, the sheer numbers — and the suddenness of the latest arrivals — have opened up a debate about how much Portland should be doing to help immigrants and whether it should entice more of them to come.

"I love the fact that these folks are coming here, and they want a better life, and they've chosen Portland," Jon Jennings, the city manager, said. "But at the same time, I've got to figure out how to pay to pave streets and fix sidewalks and all of the things that are uniquely responsible to a municipal government."

There is friction over the issue, even inside City Hall.

"If we have discovered the magic wand that will bring young families to Portland to help us build the next generation, why would we want to stop that, especially when it costs us so little money?" Ethan Strimling, Portland's mayor, said.

The migrants arriving in this city have undergone a grueling journey, traveling by air or sea to South America, and then north on foot and by bus to the southern border of the United States, where most of them were arrested by border officials and released with notices to appear in immigration court after they declared their intention to seek asylum.

Nearly 800 migrants from Africa

have been apprehended on one stretch of the Texas border and released by authorities since the beginning of October; the surge surprised and puzzled immigration officials, who are more accustomed to seeing Central American families crossing the border. Hundreds of African migrants arrived just this month and were taken to San Antonio, where Catholic Charities provided bus tickets to Portland and other cities that the migrants named as their destinations.
The migrants have been arriving in Portland, Maine, by the dozens. The surge has opened a debate in the city, which needs new residents but also has filled its shelters.
www.nytimes.com
Africans get this and Americans get tents