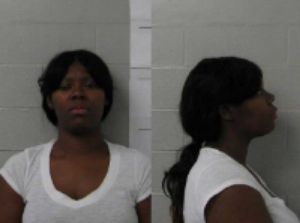 ​
A Selma woman and her boyfriend are accused of burning the woman's 21-month-old daughters with a clothes iron last month.

Shanetta Tyus, 23, and Gabriel Fikes, 22, were arrested Wednesday and each charged with aggravated child abuse, assault and endangering the welfare of a child.

According to police, Tyus' twin daughters were taken to Vaughan Regional Medical Center on the night of March 19 after being severely burned all over their bodies.
[...]
Later police had Tyus and Fikes come to the police department for an interview and couldn't determine if there were grounds for an arrest. According to police, Tyus said she was asleep, and Fikes said he was gone at the time of the incident.

Tyus and Fikes also reportedly wanted detectives to do an interview with the toddlers' 4-year-old sibling to see if the sibling could have done it.

After receiving a report from the hospital in Birmingham that showed the girls suffered second-degree burns to 40 percent of their bodies, the District Attorney's office issued warrants for the arrests of Tyus and Fikes.
http://www.wsfa.com/story/25149182/selma-mom-boyfriend-accused-of-burning-twin-toddlers-with-iron