This was in a service home in Mali. It was ruled a homicide but kept under wraps there's basically two trains of thoughts: he either pissed someone off or he found out something they were up to that was illegal and I'm thinking the second thought
http://heavy.com/news/2017/10/logan-melgar-seal-team-6-mali-obituary/
wo members of the elite Navy SEAL Team 6 are under investigation after the suspicious death of a U.S. Army Green Beret in Mali,
the New York Times reports.
Staff Sergeant Logan Melgar, 34, was found dead June 4 in embassy housing in the Malian capital of Bamako and agents with the Navy Criminal Investigative Service (NCIS) are working to determine whether he was strangled by the unnamed SEALs, the Times reports.
Many details about the case remain a mystery and military officials have kept quiet about Melgar's death. Here's what you need to know:
1. Melgar Was Living With Other Special Operators in Mali & Foul Play Was Immediately Suspected, the Times Reports
FacebookLogan Melgar.
Staff Sergeant Logan Melgar was living at U.S. embassy housing in Bamako along with several other Special Operations forces who were assigned to the West African country to help with training and counterterrorism,
the New York Times reports.
Melgar died on June 4 and an autopsy by a military medical examiner determined his death was a homicide caused by strangulation, sources told the Times.
According to the Times, details of what led to Melgar's death have not been made public. His death occurred about 5 a.m. inside the team house. His superiors were initially told he had been injured while wrestling or grappling with the SEALs, the Times reports. According to a version of events told to the newspaper, Melgar was put into a chokehold by one of the commandos and passed out. The SEALs tried to revive him, and then rushed him to a clinic, where he was pronounced dead. But it is not known if that is an accurate account of what occurred.
The newspaper reports that the mystery has led members of the tight-knit Green Beret community to speculate about what happened. The Times reports that some in the community think Melgar could have been involved in a personal dispute with his housemates or could have "stumbled upon some illicit activity the SEALs were involved in, and they silenced him."
Melgar's superiors in Germany immediately suspected foul play and an investigator was sent to the scene within 24 hours, the Times reports. He was four months into a six-month tour in Mali, according to the New York Times.
Melgar was part of small team assigned to the U.S. Ambassador to Mali, Paul Folmsbee. He and the team provided intelligence about Islamic militants to Folmsbee, and also served to protect U.S. personnel against attacks and helped assess which local troops could be trained and equipped to create a counterterrorism force, the Times reports.
He was living with three other Special Forces operators, including the two SEAL commandos, who were in Mali at Folmsbee's request on a previously undisclosed and highly unusual clandestine mission to support French and Malian counterterrorism forces battling Al Qaeda's branch in North and West Africa, known as Al Qaeda in the Islamic Maghreb, as well as smaller cells aligned with Al Qaeda or the Islamic State," according to the Times. The SEALs provided intelligence for missions and took place in two operations in Mali before Melgar's death, according to the Times.
2. The 2 SEALs Have Been Called 'Persons of Interest' & Were Flown Out of Mali After Melgar's Death
Staff Sergeant Logan Melgar.
No one has been charged in Melgar's death,
according to the New York Times report.
NCIS took over the investigation on September 25. The Army Criminal Investigative Division originally investigated the death.
The homicide investigation was not made public prior to the Times' report on October 29. Melgar's death was not formally announced by the Department of Defense, Army or the Pentagon's African Command.
"NCIS does not discuss the details of ongoing investigations," spokesman Ed Buice said in a statement.
According to the Times, the two Navy SEALs, who have not been identified publicly, were flown out of Mali shortly after Melgar's death. They were initially listed as witnesses, but were later re-classified as "persons of interest," the newspaper reports. The two SEALs have been placed on administrative leave, according to the Times.

Read More From Heavy

Eric Houck, Dillon Baldridge & William Bays: 5 Fast Facts You Need to Know

3. Melgar Was a Texas Native Who Enlisted in the Army After Graduating From Texas Tech
View image on Twitter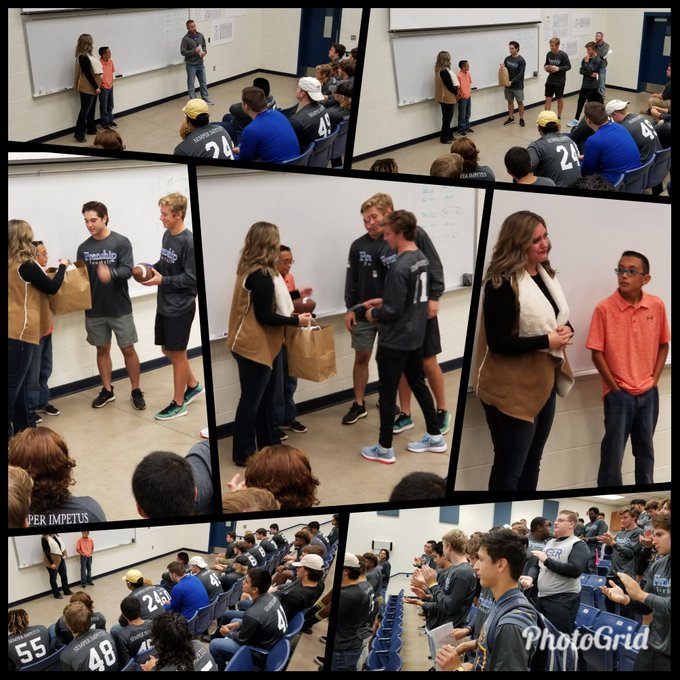 Follow

Chad Smith @ChadK3Dad
Family of Logan Melgar came to speak to the Tigers. Frenship is honoring Logan who was killed in action this year.
#txhsfb
#frenshipnation
1:11 PM - Oct 6, 2017
Melgar was a Lubbock, Texas, native, graduating from Frenship High School in Wolfforth in 2001, according to the
Frenship ISD's website.
He enlisted in the Army after graduating from college, the school district said. He graduated from Texas Tech University.
According to ABC News
, Melgar enlisted in 2012 as an 18x, or Special Forces candidate. In 2016, he was assigned to 3rd Special Forces Group (Airborne) in 2016, after completing Special Forces Qualification and Special Forces Engineer courses, the news network reports.
Melgar was
honored by Frenship High School
at its homecoming game earlier this month.
"Once a Tiger, Always a Tiger," the school district said. "This is one way we let the world know that once a person walks through the doors of any Frenship ISD campus, they become part of the Frenship Nation. We become family."
His family came onto the field during the ceremony, which can be seen at the end of the video above."
more at link
Last edited by a moderator: