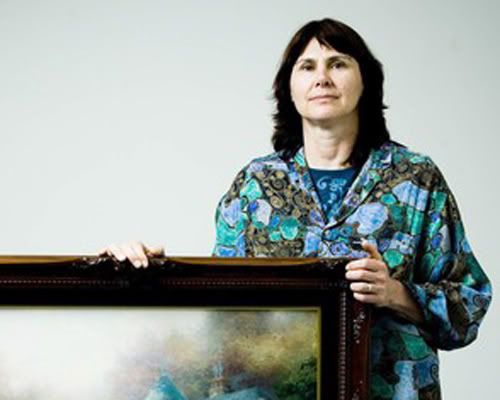 Det. Stephanie Lazarus

Sherri Rasmussen
Det. Stephanie Lazarus was told a suspect in the basement jail had information on one of her cases. The 25-year police veteran went quickly downstairs.

As Lazarus removed her firearm to pass through security, she unknowingly walked into a trap. There was no suspect -- only questions about a terrible secret police believe she has been harboring for more than two decades.

Now disarmed, Lazarus, 49, was confronted by homicide detectives and arrested on suspicion of the 1986 slaying of a woman who had married Lazarus' ex-boyfriend. The dramatic break in the decades-old case sent shock waves through the tight-knit LAPD community, marking one of the few times in the department's history that one of its own officers has been accused of murder.
Calling it an apparent "crime of passion," Deputy Chief Charlie Beck said Lazarus allegedly beat and fatally shot Sherri Rae Rasmussen, a 29-year-old hospital nursing director, two years after joining the department.

Three months after they were married, Rasmussen's husband returned to their Van Nuys condominium on the evening of Feb. 24, 1986, to discover his wife's badly beaten body on the floor in the living room. She had been shot several times, Beck said.

Days after the slaying, two men robbed another woman in the area at gunpoint. Homicide detectives suspected that the pair had also killed Rasmussen when she came upon them burglarizing her home, according to news reports from the time. Rasmussen's parents, newspapers reported, offered a $10,000 reward for the men's capture
Detectives scoured the original case file for mention of any women who could have been overlooked during the investigation. Beck said they found a reference to Lazarus, who was known at the time to have had a romantic relationship with the victim's husband, John Ruetten. Ruetten allegedly broke off the relationship and soon after became involved with Rasmussen, said sources familiar with the investigation who were not authorized to speak publicly.

With suspicion falling on an LAPD cop, the case took on sensitive and explosive tones inside the department. To minimize the chances that word of the reopened investigation would leak, only a small circle of detectives and high-ranking officials were made aware of it. Last week, an undercover officer surreptitiously trailed Lazarus as she did errands, waiting until she discarded a plastic utensil or other object with her saliva on it, police sources said.

The DNA in her saliva was compared with the DNA evidence collected from the murder scene. The genetic code in the samples matched conclusively, police said.
http://www.latimes.com/news/local/la-me-detective-arrested6-2009jun06,0,2400854.story